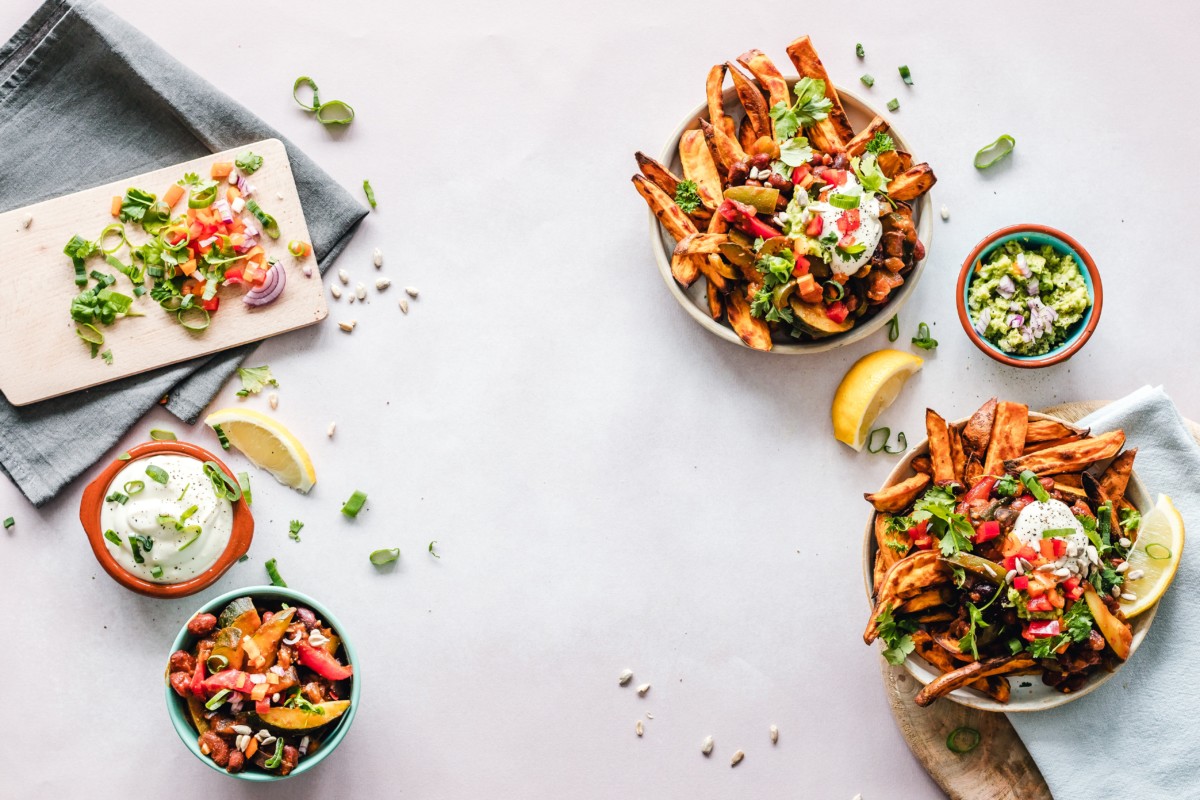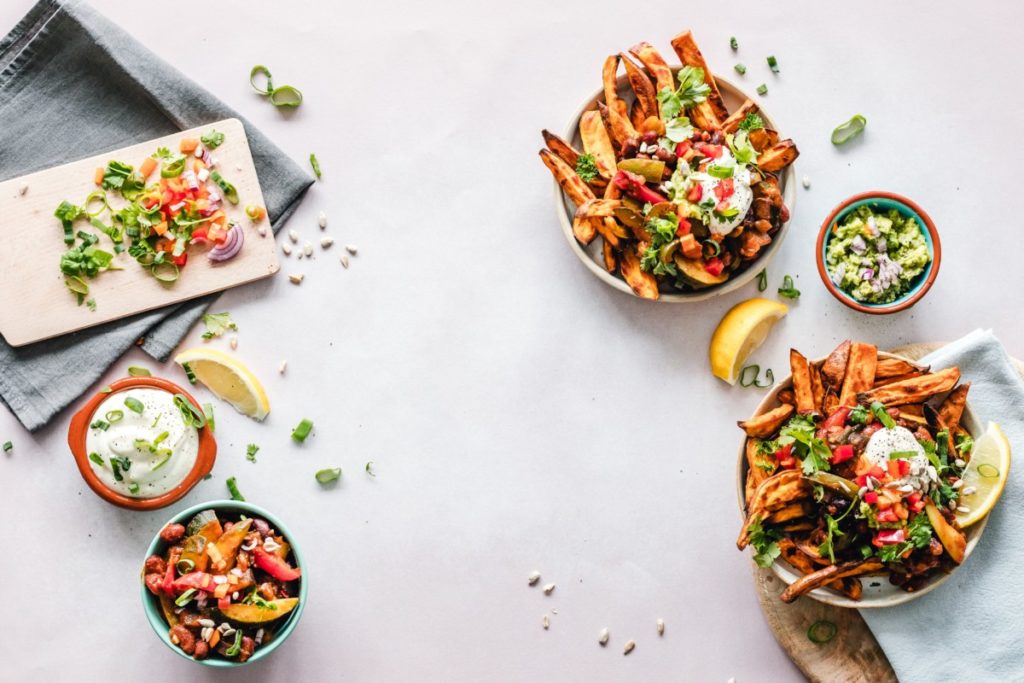 Thanksgiving is a time we can come together with family and friends and share what is arguably one of the greatest meals of the year. Nobody wants to feel left out at holiday dinners — and you don't have to be! If you're living with diabetes you can still enjoy all your favorite foods. All it takes is some creativity to craft delicious and nutritious recipes that will please a crowd. We've taken 5 classic Thanksgiving side dishes and given them a diabetes-friendly spin. Mashed potatoes, stuffing, sweet potatoes, green bean casserole, and cranberry sauce — all the favorites get a nutritious upgrade to help you stay healthy this Thanksgiving. Enjoy this article on top 5 Diabetes Friendly Thanksgiving Sides to Please a Crowd.
1. Mash Reimagined
Replace starchy white potatoes with this cheesy, creamy, cauliflower mash. Fewer carbs, more fiber — it's scrumptious and good for you too!
Parmesan Mashed Cauliflower
SERVES 6
COOK TIME 15 Min
INGREDIENTS:
1 head cauliflower, cut into florets
2 Tbsp milk
3 Tbsp butter or margarine
½ tsp garlic powder
½ tsp onion powder
¼ tsp nutmeg
½ tsp black pepper
2 Tbsp Parmesan cheese, grated
DIRECTIONS
Boil or steam your cauliflower florets in a large pot over medium heat for 15 to 20 minutes, or until tender. Next, drain well and place in a medium bowl.
Combine cooked cauliflower with the remaining ingredients and mash. You can do this by hand, in a food processor, or beat with an electric mixer until everything is well combined and your desired texture is achieved.
Note: For a quick-and-easy baked version, add ½ cup Parmesan cheese and 4 beaten eggs to the mixture and place in an 8-inch square baking dish that has been coated with nonstick cooking spray. Bake in a preheated 350°F oven for 30 to 40 minutes, or until golden and set.
2. Goodbye Canned Yams
Ditch the marshmallows for a more natural, nutty topping on your sweet potatoes — this recipe uses pecans for healthy fats, protein, and crunch. Most importantly, there's no sugar added!
Twice Baked Sweet Potatoes
SERVES 6
COOK TIME 1 Hr 25 Min
INGREDIENTS
3 sweet potatoes (about 12 ounces each)
2 Tbsp butter or margarine, softened
4 ounces cream cheese, softened
½ tsp cinnamon
¼ tsp nutmeg
¼ tsp ginger
½ tsp salt
¼ tsp pepper
⅓ cup pecans, toasted & chopped (optional)
DIRECTIONS
Preheat the oven to 400°F and bake your sweet potatoes until they're soft enough to pierce the center easily with a knife, about 60-75min. Then allow them to cool.
Slice your cooled potatoes in half lengthwise and scoop out the flesh. Be sure to leave enough behind so that your potato skins hold their shape.
Follow up with combining sweet potato flesh and the remaining ingredients and mash by hand or puree to desired consistency.
Additionally, fill your potato skins by piping or spooning in your filling mixture and top with pecans if desired.
Finally, bake for an additional 8-10 minutes and serve!
3. Upgraded Green Bean Casserole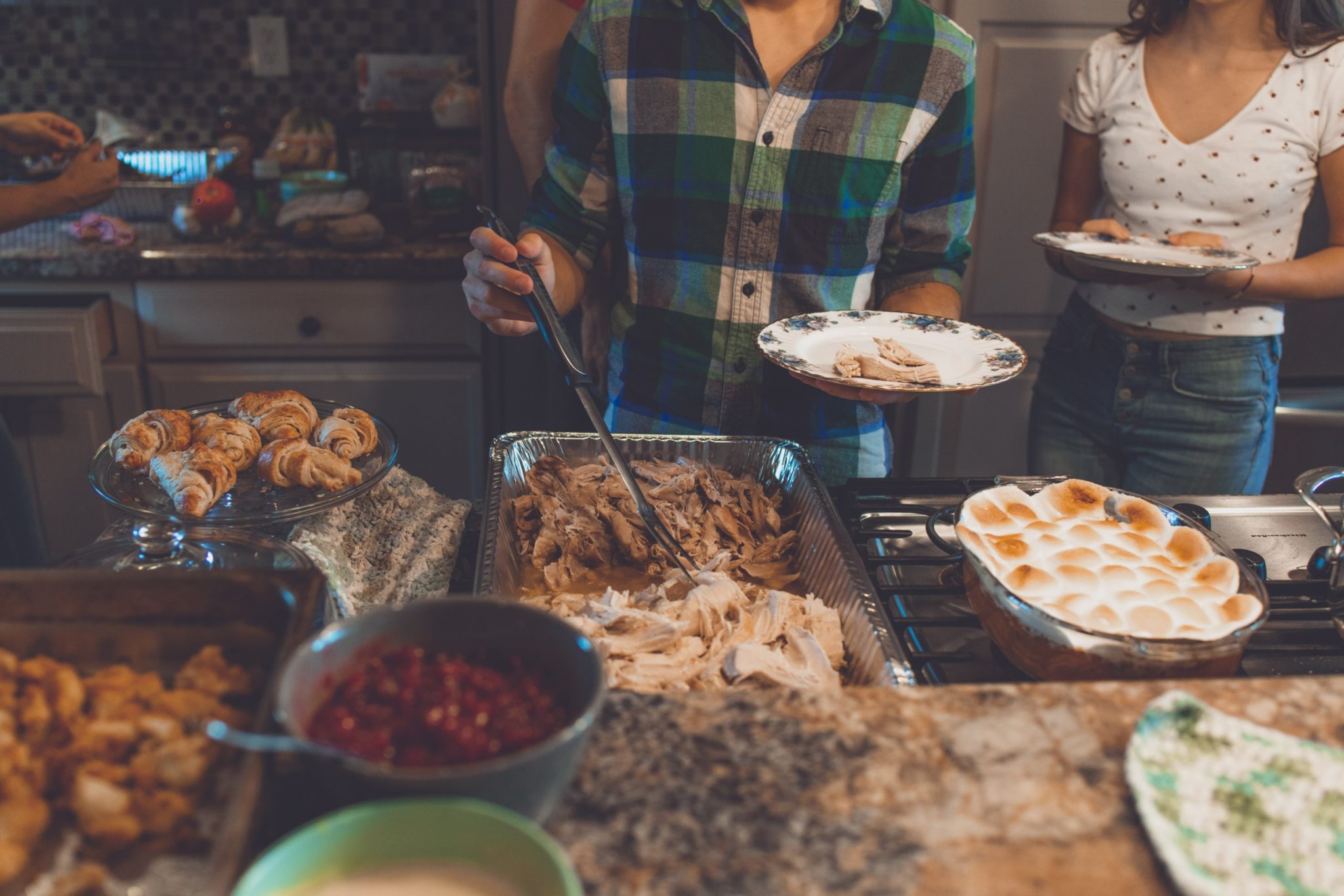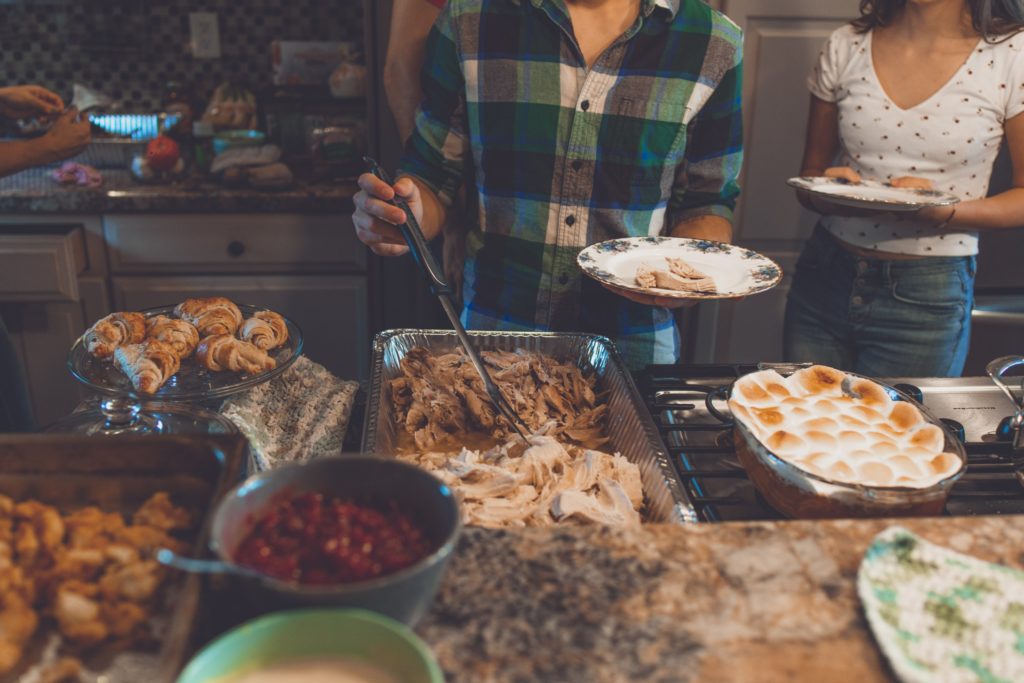 Canned soups make this classic Thanksgiving side packed with extra fat, sodium, and calories. Freshen up the old casserole with an upgraded version full of fresh veggies!
Low-Carb Green Bean Casserole
SERVES 4 – 6
COOK TIME 30 – 40 Mins
INGREDIENTS
11 oz green beans
2 tsp olive oil
1 onion, finely diced
½ tsp minced garlic
½ red bell pepper, diced
6 oz mushrooms, sliced
3 Tbsp dry white wine
½ cup cream
1 tsp dijon mustard
3 oz shredded cheddar cheese
salt and pepper to taste
For the Topping
4 oz almond flour – approx. ¼ cup
5 oz fried shallots – approx. ½ cup
DIRECTIONS
Preheat your oven to 350°F.
Heat the olive oil in a non stick pan over a medium heat and sauté your onions until they are translucent, around 4 minutes.
Add the garlic, bell pepper and mushrooms and cook for a further 3 minutes.
Add the white wine to the pan and cook for 1 minute, allowing the alcohol to evaporate.
Mix the Dijon mustard with the cream and season the mixture with salt and pepper. Then pour your mixture into the pan, stirring through. Bring it to a simmer then stir in your shredded cheese.
Combine the sauce with the green beans and put in a small casserole dish.
Next, mix the topping ingredients together and spread the mixture over the top of your beans.
Bake for 30 minutes uncovered. Let stand for 10-15 minutes before serving.
Note: This dish makes 4 large servings for a weeknight meal, or 6 smaller servings for Thanksgiving dinner.
4. Stuffing Stuffed with Fiber
Skip the bread and go with a Wild Rice (or quinoa) stuffing instead! These grains are full of fiber that your body will digest more slowly than processed, pre packaged bread cubes — so this stuffing won't spike your blood sugar levels.
Wild Rice Stuffing
SERVES 12
COOK TIME 1 Hr
INGREDIENTS
¾ cup uncooked wild rice (or equal amount of uncooked quinoa)
2½ cups water
1 Tbsp olive oil
¾ cup onion, finely chopped
1 cup mushrooms, sliced
1 cup apple, diced
¼ cup dried cranberries
2 cups celery, diced
½ tsp salt
¼ tsp black pepper
1 Tbsp poultry seasoning
½ cup reduced-sodium chicken broth
¼ cup slivered almonds, toasted
DIRECTIONS
Rinse the wild rice two to three times — or until the water runs clear.
In a 1½-quart saucepan, bring your wild rice and water to a boil. Reduce to a simmer, cover and cook for about 30 minutes or until all the water is absorbed, stirring frequently. (If you're using quinoa, cook it for about 15 minutes.)
Heat your olive oil in a skillet over medium heat. Then add onion, mushrooms, apple, cranberries, celery, salt, pepper, and poultry seasoning. Cook your aromatics for about 10 minutes, until everything is tender and fragrant.
In a large bowl, combine the cooked rice (or quinoa), cooked aromatics and chicken broth. You can use this mixture to stuff your turkey or bake in a covered dish coated with cooking spray at 350°F for about 20 minutes.
Lastly, sprinkle with toasted slivered almonds and serve!
5. Yes We Cran
Think you can't enjoy some cranberry sauce with your turkey? Think again! This low sugar option is sweetened with fresh orange juice and a splash of agave nectar (or sugar-free alternative, if preferred.)
Low-Sugar Cranberry Sauce
SERVES 6+
COOK TIME 45 Mins
INGREDIENTS
1 12-ounce bag fresh cranberries
Zest from one orange
Fresh-squeezed orange juice and water to make 1 cup
¼ cup agave nectar or sugar-free maple syrup
1 Tbsp brown sugar substitute
Next, 1 Tbsp balsamic vinegar
1 cinnamon stick or ½ tsp ground cinnamon
2 star anise pods
DIRECTIONS
Mix all of your ingredients together in a pot and bring to a boil over medium heat. Cook your mixture for about 45 minutes or until the liquid has evaporated and cranberries have burst.
Transfer your cranberry sauce to a heat-proof container and remove the cinnamon stick (if using) and star anise pods. The mixture will thicken as it cools. Then chill in the refrigerator until you're ready to serve!
We hope we've inspired you to bring something new to your Thanksgiving table. We've covered all the most popular side dishes — and next week we'll tackle the next course. Stay tuned for the best diabetes-friendly Thanksgiving desserts coming soon!
What's your favorite dish from our top 5 Diabetes Friendly Thanksgiving Sides to Please a Crowd Thanksgiving? Let us know in the comments below!